Print & Play: download free demo versions of board games
How fun it is to play board games together with your family. But at some point you want something new. Going to a store to get informed about a game is difficult. Asmodee has thought of that: Print & Play. Download free demo versions of board games.
How, you can read here.
Board games and party games
Since the lockdown we've been playing board games and party games en masse. At a certain point you have played the game so often that you are ready for a new game. To go to the store now to buy new board games and get informed is inconvenient. Asmodee comes up with the solution.
On the site you will find fun Print & Play versions of some games available for free download! The games offer entertainment, but are also suitable as an educational tool. The most played games are: Pandemic: Hotzone, Ticket to ride, Dobble, Dixit and Unlock.
Print & Play from Asmodee
Choose on the site the game you would like to play. Download the PDF and print it out. All you need is a printer, scissors and tape.
Print free demo version
In addition to free demo versions of many different games that you can print out, you can find on Print & Play from Asmodee for example also the Ticket to Ride Stay Home! game. You can also download these for free. However, for this game you do need a basic game of Ticket to Ride.
This is clearly indicated in the print version.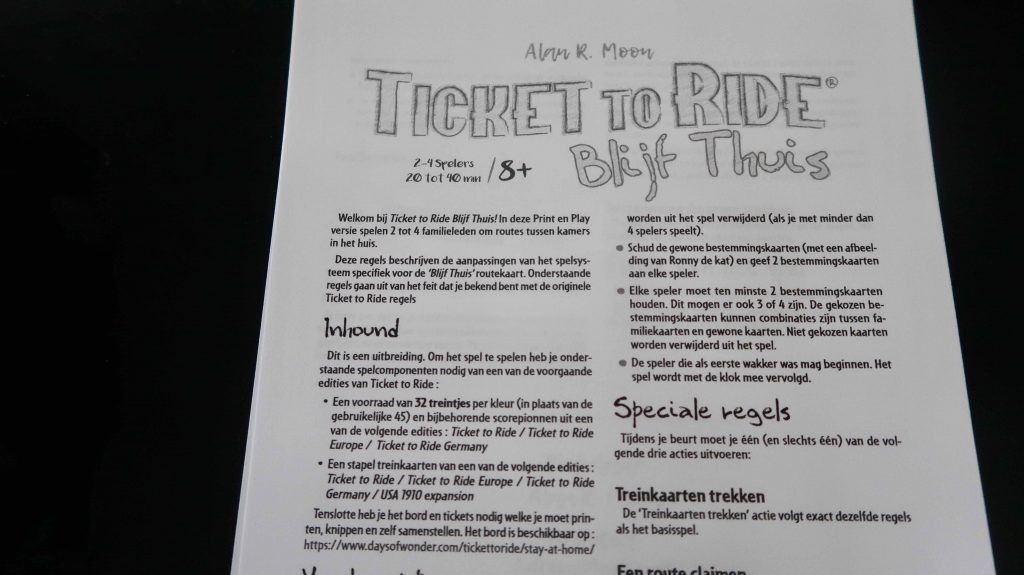 Ticket to Ride basic game
To print yourself & Play to try, we were sent the game Ticket to Ride at home. Do you like a little challenge at home? Then this game is really something for you! A board game where you have to think, play tactically, get in each other's way but also have a bit of luck?
Ticket to Ride is a super fun game, which – to keep playing games together also fun- takes no longer than an hour, 5 quarters of an hour. We now played the basic game but can play with Pint&Play the Stay at Home version for free now! printable version and play.
Ticket to Ride Stay Home! version
Because at some point you may have run out of board games at home and are looking for new challenges. The free download and printable version of Ticket To Ride is Ticket to Ride Stay Home! In this Print & Play version playing 2-4 family members to route between room in the house. The rules printed on the printed version describe the modifications to the game system specifically for this Stay Home! version .
Free Print & Play demo version for more board games
Do you love playing board games at home?. Check out the site, download a demo version of a game that appeals to you and take on the challenge. There is an awful lot to choose from, but there are also new games being added all the time.
So keep a close eye on the site!