Baking biscuits with a speculaas board recipe
The autumn and winter time calls for speculaas and of course you can easily buy them in the stores. But itself baking cookies is also a lot of fun. It's an easy recipe to make with children.
How to work with speculaas board and the recipe, you can find it here.
Baking cookies together
The recipe for baking speculaas biscuits is naturally standard, because I can't imagine speculaas cookies would taste any different than the ones you buy at the store. Now it is always fun to bake something delicious together with children and this time it is a very easy recipe of gingerbread cookies. In the summer, on a visit to the Zuiderzee museum in Enkhuizen, I received a packet of speculaas spices and a wooden speculaas figure to bake your own speculaas biscuits. And then came my question;'how does that actually work so a gingerbread board?'
Using speculoos board
We used to have these speculoos boards hanging on the wall at home, and before I started baking these cookies I asked my mother if she used these too. She told me she never used these because it was impossible to get the dough out of the figures of the speculoos board easily. And that's where my fear lay a bit too, because how was I supposed to pull this off?
I started fiddling and trying and after the first few failed cookies, the rest came out fine from the wooden board and it was actually super easy to use this speculaas board.
Baking biscuits
Recipe for 20 speculoos
What you need:
175 grams of flour
100 grams of butter
75 grams castor sugar
2 teaspoons of baking powder
2 tablespoons or water
1 tablespoon of gingerbread spice
wooden speculoos figure/shelf
How to make thesis cookies
Preheat the oven to 175 degrees. Melt the butter and place it with the flour, caster sugar, baking powder, water and speculaas spices in a mixing bowl and knead into a smooth dough ball.
Grease the wooden gingerbread figure/board with oil and sprinkle with some flour. Pat this flour back off and press a ball of dough firmly into the figure/board. Turn the wooden board over on the countertop and press well, cutting away the excess speculoos. Remove the figure/board from the dough and go under the dough with a sharp knife and pull the cookie off the counter top like this.
Place the speculaas on a baking tray with baking paper.
Repeat this operation until you run out of dough. Put the speculoos in the oven for 20-30 minutes. Keep checking from time to time that they don't go etahrd.
grease the wooden speculoos board well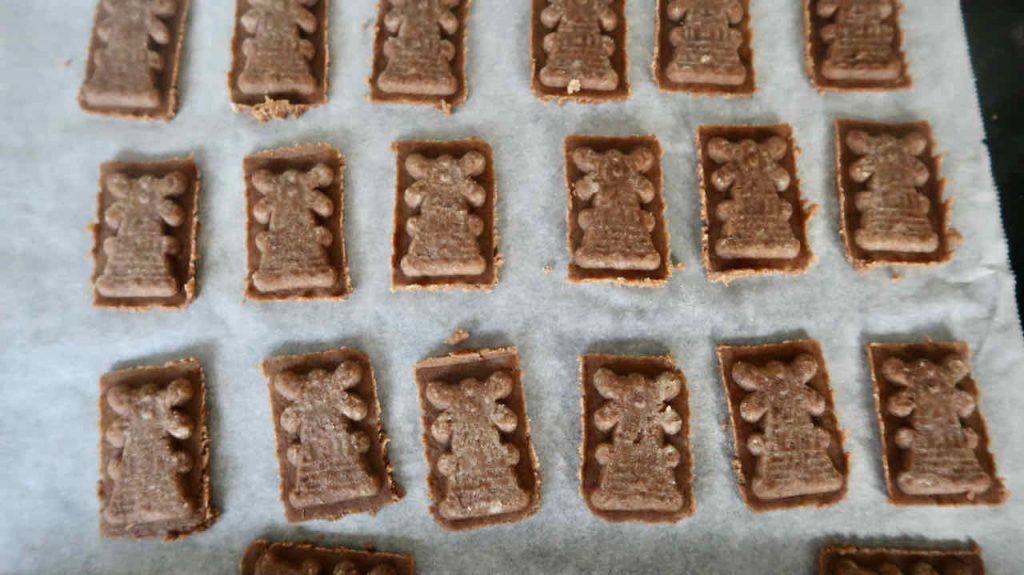 20-30 minutes in the oven
Getting started with a speculoos board yourself? Click here for product information
Baking Together with the Kids
The Recipe and Baking of Speculoos is Easy. Getting the Dough Out of the Wooden Speculaas Board also, But Be Sure to Grease It Well with Some Olive Oil And Flour. Super fun to do and the cookies are super tasty!
Do you also love the cookie dough? The Cookie Dough From Let ' S Dough It Can Be Eaten Like This, Without Baking.