LEGO VIDIYO – interplay between music and LEGO bricks
The LEGO Group and Universal Music Group jointly launch LEGO VIDIYO. Allows children to direct their own music videos's. This is what they do to the beat of world-famous and local artists in a safe online environment.
How fun is this!
The launch of LEGO VIDIYO
The LEGO Group and Universal Music Group (UMG) announced this week the launch of LEGO® VIDIYO™. This is a playful and innovative way to make music videos. Kids can unleash their creativity by directing their own music videos. This is how they star in the clip.
Let LEGO minifigures come to life, and can share videos with others in a secure online environment.
Dancing with your favorite LEGO minifigures
With LEGO VIDIYO, kids all over the world dance alongside their favorite LEGO minifigures. To the beat of top artists associated with UMG.
Physical and digital play
LEGO VIDIYO is a new platform targeting children from 7 to 10 years old. It forms a unique combination between physical and digital play. With LEGO VIDIYO, kids get to work on their own music videos.
In which they can perform alongside band members in the form of cool LEGO minifigures. Who doesn't want that?
Choose your favorite music
Kids choose their favorite music from a wide repertoire of national and international artists. Music videos can only be shared online after verified permission from a parent and after the clip is in-app verified. Know that anonymity and external oversight is guaranteed on all content uploaded to the app feed. Parents can count on their kids to let their creativity run wild with LEGO VIDIYO.
And in a safe online environment.
Unique performances
Too much fun! Young videographers experiment to their heart's content with all the unique features LEGO VIDIYO has to offer. It is a completely new app, minifigures come through augmented reality come to life.
And 'Beatbits'-special effects provide an endless combination of editing options.
How it works
In the app, choose one of many songs from a wide range of established artists. Contemporary chart-toppers as well as well-known classics.
Striking band members
You decide who will be in your band. Assemble your band from a vibrant collection of minifigures that you shape yourself . Bring dez to life with AR technology in the LEGO VIDIYO app. Through BeatBits, scannable elements in the LEGO VIDIYO app, unlock special digital effects.
Allows you to personalize music video productions.
Visual effects
Our young videographers choose from a whole host of visual effects. Think bling-bling effects, confetti showers or X-ray vision. They can also select audio effects like DJ-scratching, a high-pitched mouse voice or a saxophone solo.
It also includes fun typical moves and gimmicks, such as break dancing or surfing a shark.
Choose your own stage
Kids can play LEGO VIDIYO music videos really anywhere. In parks, bedrooms, backyards or any setting with LEGO bricks. In just three seconds, the app scans your location and begins the countdown to the production phase. By selecting a BeatBits, kids take creative control of their own music video production.
And bring out their best dance moves in a dazzling 60-second performance.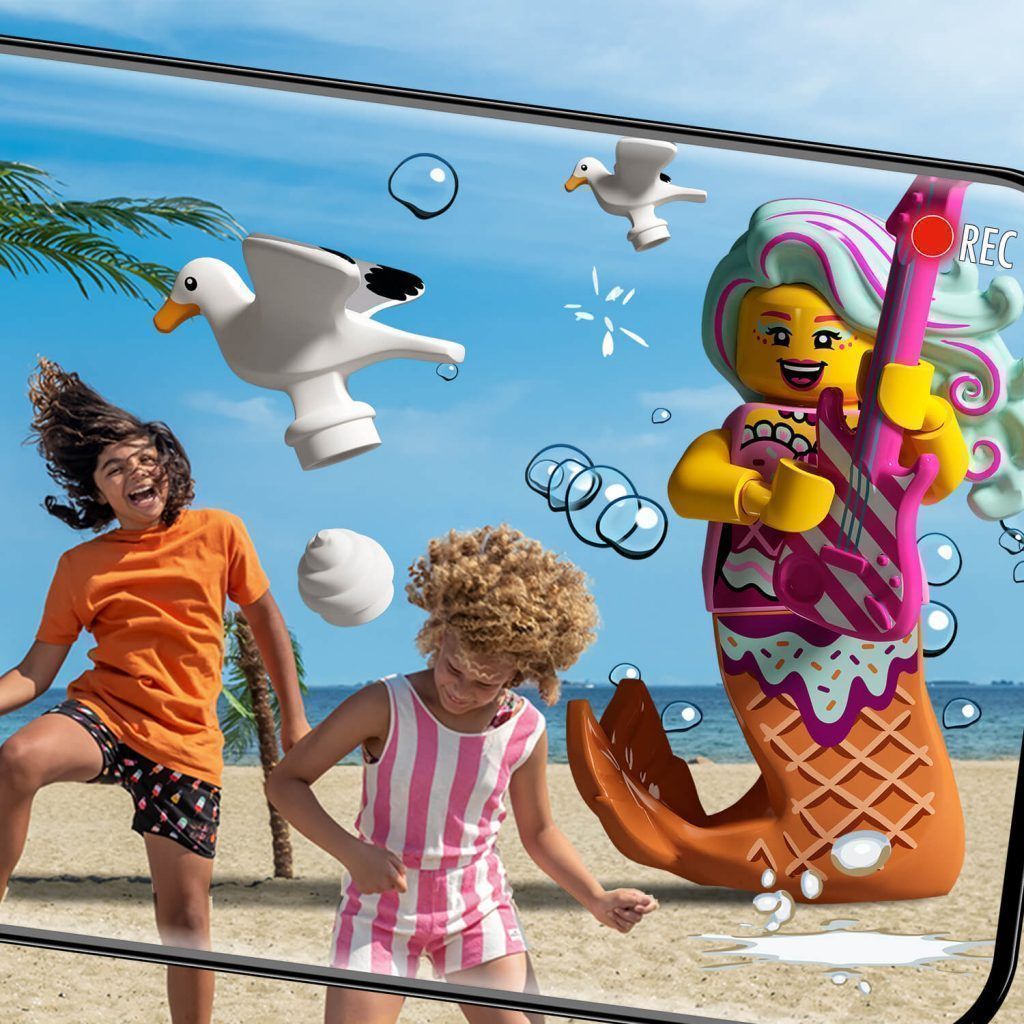 Critical review
This video can then later be shortened to shareable clips of 5, 10, 15 or 20 seconds. Clips will be uploaded to the app feed; however, this can only be done after the content has been critically reviewed. Content with personally identifiable information, such as children playing along in the video, will not be approved for uploading to app feeds.
However, it can be saved locally 'in-app' so that friends and family can enjoy it in private.
Unique interplay between music and LEGO bricks
LEGO VIDIYO is the first collaboration between the LEGO Group and Universal Music Group, after the two companies announced their partnership last April. The LEGO Group has been investing in inspiring and developing children through play since 1932. UMG, for its part, as a global leader in the music industry, is adding a wide assortment of local and world-renowned music to LEGO VIDIYO.
The first LEGO VIDIYO products will be available from March 1 in most countries worldwide, including Belgium and the Netherlands.
Update:
Still need inspiration to entertain kids in a fun way? Look no further! On Sunday, April 18 at 4 p.m., the very best toy brand LEGO is hosting the virtual launch party of LEGO® VIDIYO™!Experience hours of music fun with the new VIDIYO app!