The winter collection of LCEE
The winter collection of LCEE is for the boys who are cool and trendy dressed. And while the weather outside is still fine, fall and winter clothes are starting to come into view. Take a look?
My boys and blouses with tie
Last year I bought my sons both a shirt with a tie. Nice for the holidays, I thought at the time. To be honest, they did not like it at all. 'They really weren't going to walk around with a tie.' Until I asked them to put it on and I sat them down in front of the mirror. Then they saw themselves how great this looked and they were totally convinced of the taste of their mother. This is why the collection of LCEE appeals to me so much.
Boys who love parties
Bow ties, a blouse and fun prints. LCEE's versatile winter collection is perfect for boys who love to party and prefer to play all day long. It's a cool collection with a classic touch!
Go classic, trendy or preppy this winter? Tip! Go for a combination of preppy with bows and a blouse with fun prints. Choose a trendy army print combined with classic lace. All super cool on one of the chino pants from the new winter collection.
Combining with clothes
Pair one of the pants with a plaid shirt, a striped T-shirt or a nice warm cable sweater. Navy is combined with grey melange and a nice red color to a warm whole.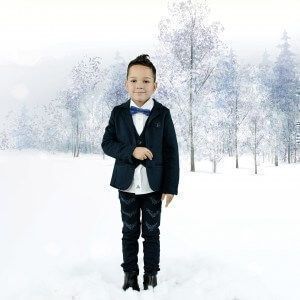 About LCEE
LCEE is available in sizes 62 to 92 (babies) and 92 to 164 (kids). Since 2013 there is also a newborn collection in sizes 50 to 68. The collections are perfect for everyday use. LCEE has a wearable communion collection, but which the kids can also go to school in.
Winter collection
You can find this winter collection here, among others, but you can also find LCEE on Facebook